Swindling secretary Helen Hart jailed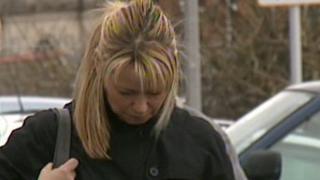 A company secretary who swindled more than £300,000 from her employer to fund a lavish lifestyle has been jailed for four years at Truro Crown Court.
Helen Hart, from Illogan in Cornwall, spent the money on luxury cars, cosmetic surgery, private jet charters and a box at Chelsea Football Club.
Hart, 46, pleaded guilty at an earlier hearing to a total of 18 counts of fraud, theft and deception.
Judge John Neligan said her actions had been "blatant and brazen".
"Your lifestyle, if I may say so, was a lavish one at the expense of your employer," the judge added.
"These are blatant and brazen breaches of trust and one of the most obvious breaches of trust that an employee can commit."
Colleagues 'betrayed'
The court was told between October 2005 and May 2012 Hart forged official court documents, solicitors' letters and the signature of her employer Philip Desmonde - company director of PDP Green Consultants Limited.
Hart had told colleagues she and her husband inherited "millions" from a relative.
Prosecutor Jo Martin said Hart regularly travelled to London to undergo cosmetic treatment following dramatic weight loss and an image change, staying at the Dorchester Hotel and going to the theatre.
Hart also took a 21-year-old man she met at her gym to a Chelsea football match, paying £5,000 for a hospitality box.
'Greedy' fraud
Over a five-year period Hart spent £65,000 on luxury cars, including a Mercedes, Range Rover and Porsche.
She also had a £25,000 bill at Harrods and spent £16,000 at the Dorchester.
Ms Martin said Hart's actions brought her employer's business "to the edge of insolvency" and her fraud was not of necessity, but of greed,
"This was someone who was going the whole hog to create a persona and lifestyle, showing a very acute mind to live the way she wanted to live," the prosecutor said.
Hart's actions were uncovered when HM Revenue and Customs sent a letter to PDP relating to a winding-up notice.
After sentencing, PDP director Roger Green said he and his colleagues had been "betrayed" and nearly put out of business by someone considered to be a "trusted colleague and personal friend".