Carbon monoxide deaths: Inquests open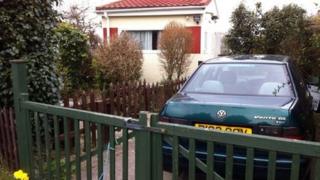 Inquests have opened into the deaths of three members of the same family were found in their static caravan.
The bodies of John Cook, 90, his wife Audrey, 86, and their 46-year-old daughter Maureen were discovered in Cornwall last Saturday.
Investigators believe the three died, along with the family's dog, of carbon monoxide poisoning from a cooker.
Cornwall coroner's office said the inquests were opened on Friday and would resume at a later date.
Unconscious 'within minutes'
The bodies were discovered at the mobile home the family shared on the Tremarle Home Park in Camborne.
It is believed there was no working carbon monoxide detector in the static caravan, meaning the three would have been unconscious "within minutes", Cornwall Fire and Rescue Service said.
Devon and Cornwall Police said the source of the poisoning was "believed to be from incorrect operation of the gas cooker".
Early readings from experts at the site revealed a lethal level of carbon monoxide present within the caravan shortly after the discovery of the bodies.