Cornwall Conservatives quit over council tax freeze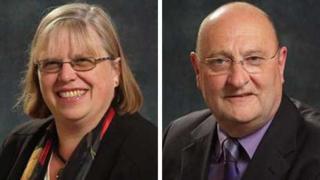 Two Conservative Cornwall councillors have resigned from the party after colleagues voted to freeze council tax.
Carolyn Rule and Lance Kennedy have become Independents after some Conservative councillors voted in support of a Liberal Democrat proposal.
The two councillors and the Conservative/Independent-controlled council Cabinet wanted to raise council tax to protect services.
Tory Stephen Rushworth was sacked from the Cabinet for supporting the freeze.
The Cabinet had put forward a budget to save more than £30m and raise council tax by 1.97% from April.
'Cataclysmic effect'
But the Liberal Democrats' proposal for a budget for 2013/2014 was passed by 52 votes to 49, partly due to support from backbench Conservatives.
It means the council has frozen its share of council tax for the third year running.
Interim chief executive Paul Masters said the decision could cost 135 council jobs.
Bodmin East councillor Mr Kennedy said the freeze "could have a cataclysmic effect on services".
Mullion councillor Ms Rule said: "What they've done is horrific. Adult care, children and shared services such as libraries are all at risk."
Both keep their Cabinet jobs, but their decision means only three Conservatives remain on the 10-member Cabinet.
Conservative group leader Fiona Ferguson, who voted for the freeze, said: "If you stand as a Conservative candidate, people know you have certain principles and you try to stick by them.
"On zero council council tax we have always been consistent, that's what we wanted to achieve if we could possibly do it."
'Boost jobs'
Cuts include £855,000 from adult care and support, £723,000 from children, schools and families and £365,000 from shared services such as libraries.
Liberal Democrat deputy leader Alex Folkes said: "This budget will actually boost jobs numbers, not cut them.
"We have said that the bulk of the savings should be made by transferring agency workers on to contract."
Conservative council leader Jim Currie, who supported the tax rise, called the freeze decision "half baked".
"Everybody is in a state of shock but this is democracy, it's been done.
"My job is to manage it and we'll try to make the best of it," he said.