Cornwall's St Piran parades for tinners' saint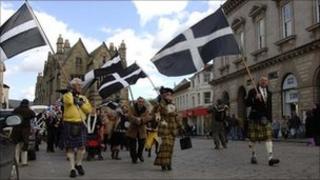 The patron saint of tinners will be celebrated later with a series of parades in Cornwall.
According to legend, St Piran was flung into the sea in the 6th Century by the kings of Ireland who were jealous of his healing powers.
After he landed in Cornwall he "discovered" tin when his black hearthstone became so hot, tin began to melt out.
Street processions will take place through several Cornish towns.
Hundreds of people braved the cold on Sunday to watch a re-enactment of how St Piran arrived in Cornwall.
The pilgrimage across the dunes of Perranporth included actors in full costume using the beach as their stage.
Holiday call
In Truro hundreds of school children will walk through the city with Cornish flags.
Local musicians will perform through the streets, culminating in the singing of local song Trelawny.
Parades are also planned in Bodmin, Liskeard, Falmouth, St Ives and Penzance, with smaller events also expected to take place.
In recent years there have been calls to the government to a recognise St Piran's Day as public holiday in Cornwall.
Lib Dem MP Dan Rogerson said at the time a public holiday would be a "valuable opportunity" to celebrate Cornwall's unique heritage.
In 2006 Bodmin Town Council gave its workers a holiday on 5 March for St Piran's Day.