HMS Dasher returns for Cornish rededication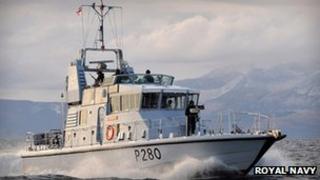 A Royal Navy ship has returned to Padstow in north Cornwall for a weekend visit which will include a rededication service.
HMS Dasher, a Royal Navy P2000 class coastal training vessel, is working with Bristol University's Royal Naval base.
Local children will visit the ship later, with the rededication service taking place on Saturday.
The ship will be open to the public for tours on Sunday.
'Amazing honour'
The Dasher, which is in its 25th year of service, provides the opportunity for students to spend time at sea, both on sea weekends, and longer deployments during university breaks.
Mid-Shipmen Liz Connell, one of 69 members of the Royal Naval unit studying on the ship, said: "I can't even drive a car, so to say you can drive a Royal Navy ship is really good."
Lt Cdr Charles Collins, the ship's Commanding Officer, said: "We're extremely happy to get involved with the local community."
The vessel is named after the aircraft carrier HMS Dasher, which sank off the coast of Ardrossan in Scotland, on 27 March 1943 with the loss of 379 of her 528 crew.
It will be moored at Padstow's harbour for its visit, which will also include an appearance by the Royal Marine Band.
The ship will leave Padstow on Monday.