Newquay safety scheme targets inner city teens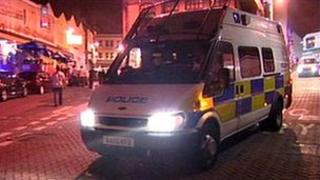 Hundreds of teenagers from the West Midlands have been given coastal safety advice ahead of a Cornish resort's summer season.
The Coast Safe campaign aims to prevent teenagers who are visiting Newquay from injuring themselves.
Cornwall councillor Geoff Brown, who is behind the scheme, said council data suggested a large number of those injured came from inner city areas.
The scheme began in 2010 after two teenagers died in the town.
Mr Brown and his wife, Chris, have visited about 54 secondary schools and spoke to more than 2,600 students in the Birmingham area.
Drinking crackdown
The couple plans to target cities, like Birmingham, where many teenagers who visit Newquay are from.
Mr Brown said it was the first time so many teenagers had been targeted by the scheme in one week.
In the autumn, Mr Brown hopes to meet young people in Manchester.
Previously, those living in Oxford, Berkshire and Cornwall have taken part in the scheme.
The project, which has been funded by the government's Home Office Innovation Fund, gives basic safety advice for young people to help them when they are near the sea.
The scheme is part of the Newquay Safe Partnership which involves police, councils, businesses and residents.
It was set up in 2009 to crack down on underage drinking in the town.