Launceston College students remember 9/11 rescuer Rick Rescorla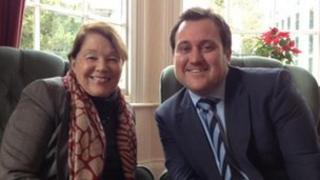 A Cornishman who led 2,700 men and women to safety during the 9/11 terrorist attack has been honoured by a north Cornwall college.
Rick Rescorla, from Hayle, in west Cornwall, lost his life in the attack on the Twin Towers where he worked as the head of security.
His widow, Sue Rescorla has visited Launceston College where a new school house has been named after him.
The idea of Rescorla House came from the college's students.
Mrs Rescorla said: "I think it's wonderful, the more people know about Rick and his story. That's what it's all about.
"Taking the legacy of 9/11 forward for everyone affected by it. Our whole world was turned upside down."
Mr Rescorla was the security manager for Morgan Stanley Dean Witter at the World Trade Centre in New York when two planes struck the twin towers on 11 September 2001.
Mrs Rescorla said: "I really wanted to tell the students about the real man, what he was like, and his responsibilities, to make it real for the children.
"I am so very proud to have had him in my life. I want so to have his legacy live on."
Mrs Rescorla said her husband was "enormously proud to be Cornish, and always kept Cornwall in his heart".
She has visited the county 16 times since Mr Rescorla's death.
The 62-year-old, who shepherded thousands down from the south tower, was last seen going back up the stairs but his body was never recovered.
Dave Egford, the head of Rescorla House, said: "We can't believe how lucky we are to have Susan with us. It's a real honour.
"We wanted to break our college down into four houses with names that had real affinity with Cornwall."
The other houses at the college have been named after the inventor and mining engineer Richard Trevithick, the St Ives sculptor Barbara Hepworth and the Cornish poet Charles Causley, who had a home in Launceston.