Cornish gardener wins £1m on lottery scratchcard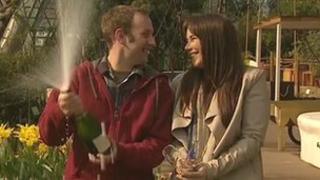 A gardener from St Austell has celebrated blossoming fortunes after a £1m win on a lottery scratchcard.
Lee Orchard, 30, said he bought the £5 card on a whim in a Co-op store in Roche on his way to work on 7 March, using money from a previous card win.
He said he was left shaking after the National Lottery win was confirmed.
Mr Orchard and his wife, Laura, said they would use the money to buy new cars and a house, as well as saving some for their two children.
Unbelievable
Mr Orchard, who works at his parents' garden centre, said he and the lady in the shop who verified the card were "shaking" when the prize amount was confirmed and he was told he would have to contact lottery operator Camelot to claim.
Laura Orchard, who works as a beautician, said she did not believe her husband when he first told her.
She said: "Originally he told me he'd won £1,000.
"'Oh, you haven't,' I said. He then said: 'No, I haven't. I've won a million.'"
The couple have a three-year-old boy and an eight-month-old girl.