Fly-tipping increase costs council an extra £200,000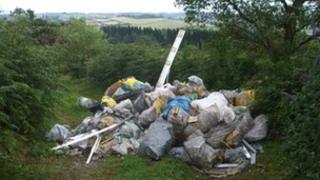 Fly-tipping has cost Cornwall Council about £200,000 more to deal with this year than last year.
New council figures show the cost of clearing up fly-tipping has increased by 119% from 2011/12 to 2012/13.
It is thought a cut in municipal tip opening hours, the introduction of a new van permit system and a tough economic climate is to blame.
Cabinet member Steve Double said the results were "clearly disappointing, but unsurprising".
In 2011/12, fly-tipping cost Cornwall council £166,274 to clear-up. This figure rose to £364,553 in 2012/13.
Mr Double said: "Historically, whenever we have been in a period of recession, economically, we've found that this type of thing increases as businesses try to avoid the cost of disposing of their waste appropriately."
'Common hotspots'
Mr Double said responsible business owners had to "accept the costs" and said he would welcome the idea of an increase in the penalties for illegal waste disposal.
Council end-of-year estimates indicate fly tipping incidents will reach 4,218 by the end of the 2012/13 financial year, a rise of 738 compared with the previous year when there were 3,480.
Yvonne Lister, of clay company Imerys, said there had been a steady rise in illegal fly-tipping on its land, over the last two to three years.
Ms Lister said, as a significant landowner in mid Cornwall, fly-tipping near Imerys's entrances and access points had become "common hotspots" for dumping waste.
She said commercial waste had increased significantly, including bags of rubble and concrete, but that bags of personal household rubbish were also a common sight.