Marazion marsh's nesting herons leave 'due to helicopters'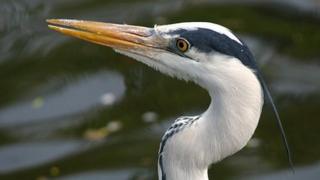 Low-flying helicopters have caused protected birds to leave their nests at a nature reserve in Cornwall, the RSPB has said.
It is thought five of the seven pairs of grey heron at Marazion Marsh have left because of the aircrafts, it said.
Site manager Dave Flumm added he had seen photographs of aircraft from RNAS Culdrose flying over the reserve.
A spokesperson from the base said crews are "quite dutiful" and try to avoid protected sites.
Mr Flumm said birdwatchers had reported 15 incidents since August when some form of low-flying helicopter was recorded over the reserve.
He added that the birds, which are protected at all times under the Wildlife and Countryside Act 1981, were the UK's only ground nesting herons.
The RSPB and Natural England are in discussions about how to stop the disturbance.
RNAS Culdrose, which is home to Merlin and Sea King helicopters, is the largest helicopter base in Europe with some 75 aircraft and 3,000 personnel.
A spokesman said Merlin helicopters would not fly close to the ground, and the Sea King would only do so in poor weather or when conducting a search and rescue operation.
He added that Sites of Special Scientific Interest, like the marsh, are on maps so crews know to avoid them.
Marazion Marsh is Cornwall's largest freshwater reedbed and is important for warblers and waterfowl.