Archbishop 'overwhelmed' by Cornish welcome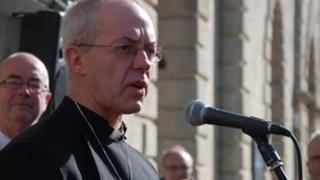 The new Archbishop of Canterbury has described the support from people in Cornwall as "overwhelming".
The Most Reverend Justin Welby was visiting Cornwall as part of his journey of prayer.
He said his visit was particularly important as the county faces "particular economic challenges", but he was "optimistic" for the future.
The 105th archbishop has also announced he will be returning to Cornwall in November for a three-day visit.
Archbishop Welby said: "I'm quite overwhelmed. There's a big crowd. It's a huge privilege to be here."
The purpose of the archbishop's visit was to pray and encourage others in Cornwall to pray with him.
His arrival was met with a performance from local school children on Truro's Lemon Quay.
The archbishop also said a special prayer for Cornwall to launch his visit.
He said: "There is hope, we need to be really optimistic. Cornwall sometimes gets forgotten, I wanted to say how important it is to be here."
Archbishop Welby said he was looking forward to his longer trip to Cornwall in November to learn more about the area and work of the Church there.