Duchy Agricultural College burglars steal shotguns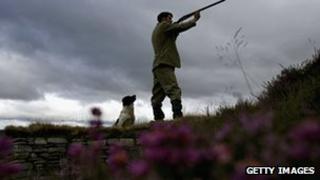 Six shotguns have been stolen from an agricultural college in Cornwall.
Devon and Cornwall Police said the Duchy Agricultural College in Stoke Climsland was targeted in the early hours of Friday.
The shotguns had been stored in a secure gun cabinet, but the burglars removed it from the wall before forcing it open and stealing the weapons, police said.
The shotguns are kept by the college for use by its gamekeeping students.
"Naturally we are concerned that shotguns have been stolen and there are now six unauthorised weapons in the hands of criminals," a police spokesman said.
A number of desktop computers and laptops were also stolen.
Anyone with information has been asked to contact police.