Cornwall Liberal Democrats 'did not expect budget approval'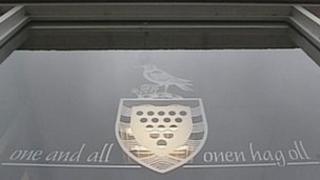 Cornwall Council's opposition Liberal Democrats did not expect their budget proposal to be approved, the authority's Conservative leader says.
The cabinet had planned to raise its levy by 1.97% but an alternative budget put forward by the Lib Dems was approved instead.
Council leader Jim Currie said the plan meant the authority now had to deal with an extra £4.6m shortfall.
The Lib Dems said their proposal reflected the county's priorities.
'Seen in opposition'
The Lib Dems' proposal for a budget for 2013-14 was passed by 52 votes to 49 in February, partly due to support from backbench Conservatives.
It meant the Conservative/Independent-controlled authority froze council tax for the third year running.
However, as a result, the authority needs to find an extra £4.6m in savings on top of £30m identified as part of a four-year budget strategy.
The cabinet debated on how to deal with the freeze on Monday, looking at a report which said most of the savings would be made by reducing the dependency on agency staff.
It said 30 jobs that could be cut - both agency and staff - had been identified, but warned the number could rise to about 135.
Day centres for the elderly and disabled, libraries and some children's services could also be affected, it said.
Mr Currie said he had been "absolutely sure" the Lib Dems would not get their proposal through.
He said: "I think they had to be seen to be in opposition."
He added that setting a further financial shortfall was "the opposite direction that we want to go in".
"There's still a £4m black hole to address, and... it will be bigger, because it will take a long time for staff savings to come into play," he said.
But the Lib Dems said they had been serious in their proposal, and this was evidenced by it being backed by enough Conservatives for it to be approved.
Councillor Dick Cole, leader of Mebyon Kernow, said the freeze had resulted in a "shameful budget".
Lib Dem councillor Jeremy Rowe said the council should be able to do a "deal with a realignment of spending".
He said: "The basis of the savings is fine because what has been termed agency staff are mainly consultants, and their use is one of the few areas of growth in spending.
"We're saying that there is money to be saved there.
"Ultimately, what we have to do reflect the priorities of the people we represent."