Surf Action expands combat veterans work with lottery funding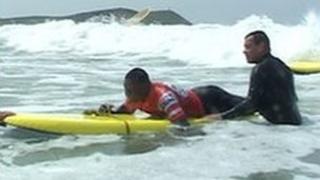 A Cornish charity which helps veterans suffering from post traumatic stress disorder (PTSD) will expand its work using lottery funding.
Surf Action looks to improve the well-being of combat veterans through surfing and other beach activities.
The Big Lottery Fund grant of £363,000 will enable the charity to run twice weekly surfing and beach activities.
The group will also run new workshops to offer support for partners and children of PTSD sufferers.
Surf Action was set up by Cornishman Rich Emerson who suffered from PTSD following his service in Iraq.
The charity focuses on helping veterans with issues such as isolation, unemployment, family breakdown and adjustment disorders.
Russ Pierre, the director of the organisation said: "The money's amazing. It's for over five years.
"It will help us with our work with families and gives us a buffer to carry on which is great."
New experiences
The project, which has worked with more than 200 veterans and service personnel since 2009.
Marine, Nicholas Gibbons, 19, from Sheffield, who lost his right lower leg in Afghanistan in 2008, is one of those who has used the service.
He said: "You think your life is at an end. But I've done more stuff than I've ever done before. I'd never done surfing before but it's awesome."
In January the charity launched a new project to help unemployed veterans secure jobs. It said 24,000 men and women leave the armed forces each year.
Last year it launched Active Plus to helps veterans with post-traumatic stress return to work.