Police worker Peter Bunyan jailed over misconduct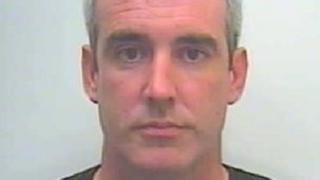 A police community support officer (PCSO) has been jailed for seven years after being convicted of misconduct in a public office.
Father-of-two Peter Bunyan, 40, of Carharrack, near Camborne, was convicted of eight out of 12 counts of misconduct at Taunton Crown Court.
He had been accused of neglecting his duties by turning his police radio down on shifts before having sex with women.
Bunyan, an officer with Devon and Cornwall Police, denied all counts.
The court was told he treated the criminal intelligence system "as a dating agency" by accessing highly sensitive police data to perform background checks on women and their former partners after visits to victims of crime.
'A disgrace'
It was also said he encouraged one mentally ill woman to send "soft porn" pictures of herself on email to a police station.
Bunyan admitted having sex with four women but said it was while he was off duty. He denied sex with a fifth woman.
The Independent Police Complaints Commission (IPCC) said it was investigating the incident.
IPCC commissioner Rachel Cerfontyne said: "This man completely abused the position of trust he was in and is a disgrace to the police service.
"The IPCC has expressed concern at the number of cases across England and Wales where officers have targeted vulnerable women for sex and I hope that this sends a message that corrupt officers will be found out and severely punished."
Bunyan, who has been suspended from the Devon and Cornwall force since his arrest in 2011, had served as an officer in another force.
He joined Devon and Cornwall Police as a PCSO in August 2003, seven years after he left Hampshire Police, where he was employed as a constable but failed to complete his probationary period.
Devon and Cornwall Police said it was to hold a disciplinary hearing on Wednesday, and it was expected Bunyan would be sacked.
The IPCC is managing an investigation into the way Bunyan was supervised in the Devon and Cornwall force and how he was able to commit his offences.