Hospital report exposes 'inadequate staffing'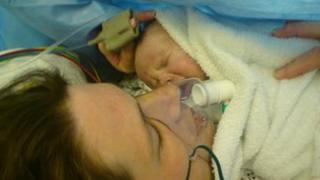 Royal Cornwall Hospital (RCH) has invested in 11 extra midwives after an investigation revealed "inadequate staffing levels" posed "potential risks" to women and babies.
A report into the gynaecology and obstetrics service described how "staff were managing a level of risk that may leave staff and patients vulnerable".
The review claimed one midwife had worked a 22-hour shift.
Head of midwifery Jan Walters said the service was "very, very safe".
The rapid response review team carried out an unannounced visit to the department on 9 January.
It said its most "pressing concern" was highlighted on the delivery suite which was opened in 1968.
To provide a safe maternity service, the Royal College of Midwives (RCM) says there should be an average midwife to birth ratio of one midwife for every 28 births.
During the first three months of 2012, RCH had a ratio of 1:32.
The report noted that there was "only six staff on duty due to sickness" during its unannounced visit and they were told that there were "several women not receiving 1:1 care on that shift".
'No evidence'
Ms Walters said: "We deliver 4,000 women in this hospital every year, so I think in terms of 'it was busy on the night of the unannounced review', absolutely it was busy on the night."
Ms Walters said there was "no evidence" of a member of staff having worked a 22 hour shift.
"We do have community midwives that work an eight hour shift and then are on call overnight for home births and community births...but it doesn't necessarily mean they have worked a full 22 hours," she said.
Ms Walters said that even before the rapid response review, the trust had already responded by investing £500,000 in additional midwifery staffing.
"We can provide every assurance that we are providing a very good maternity service and it's very, very safe," she said.
Chief executive at the Royal Cornwall Hospital Lezli Boswell said the unit "didn't have enough staff, but we do now".
Ms Boswell said there was an "increased birth rate in Cornwall" and it had already made "appropriate investments in additional staff".