BBC Radio Cornwall phone-in saves CO poisoning boy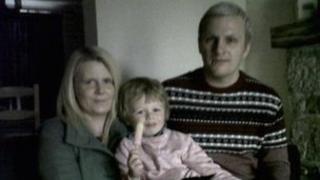 A family from Cornwall have attributed a radio phone-in to saving their three-year-old son's life after it was found he had Carbon Monoxide (CO) poisoning.
Helena Bradshaw's cottage in Bugle was evacuated after the fire service detected dangerously high levels of CO.
Miss Bradshaw was listening to BBC Radio Cornwall when she realised her son was displaying the symptoms of poisoning.
Cornwall Fire and Rescue Service said the family's wood burner was defective.
'Quite scary'
Miss Bradshaw's partner, Clinton Bilas, said: "They mentioned that the wood burners were affected and the fact that our son was experiencing headaches."
The family called the phone-in to report their situation and an inspector from the fire service was immediately sent to the property.
Miss Bradshaw said: "God knows the outcome of what would have happened if we had not made that phone call the radio station. It was at dangerous levels which is why they evacuated.
"It was an instant thing, get your coat, you need to leave now. We just rushed out the door which was quite shocking and quite scary."
The family had moved into the cottage three months prior to the incident and had fitted CO monitors but the alarms only react when the gas reaches a certain level but the family had been building it up in their systems over time.
Cornwall Fire and Rescue Service (CFRS) said in the past 12 months it had attended 91 CO-related incidents, 25 of which were serious or fatal.
Mark Pratten from CFRS said: "The majority of incidents we attend have been due to defective flue wood burners and this is due to the economic downturn and the amount of servicing that takes place."
He said the symptoms of CO poisoning were flu-like with dizziness and nausea which improved once the person left the house but came back once they returned.
He said in that instance the property should be evacuated and emergency services called.
Information about CFRS' free CO home checks can be found by calling 0800 3581 999.