Marine surveys for Cornish tin prove 'encouraging'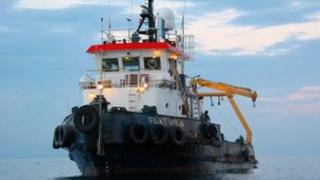 The company behind plans to mine tin off the North Cornish coast have said they are making "good progress" in their research.
Marine Minerals say they have taken 40 tin samples from the coastline between St Ives and Perranporth.
The survey work was carried out by the 79ft (24m) survey vessel MV Flatholm.
The company said their proposals would help create jobs, but campaigners are concerned about the potential impact on the environment.
Mike Proudfoot, the chief executive of Marine Minerals, said: "We've made good progress in the last month.
"The studies will continue for several months yet, but the results of our initial research are encouraging."
Findings will be made public and form part of its application to the Marine Management Organisation for a full operating licence to begin.
However, opponents are worried the collection of tin could cause irreparable damage.
The £15m plan would see the Cornish company digging up sand to extract valuable tin, which washed out over the years from the numerous old mines on the north Cornwall coast.
Environmental concerns
Campaigners including Surfers Against Sewage have previously said they fear the project could affect wildlife and tourism.
Dan Jarvis, from the Cornish Seal Sanctuary at Gweek in west Cornwall, said he is concerned the activity could discourage grey seals from using the area for breeding.
Marine Minerals said the next stage of its project will be an Environmental Impact Assessment study, "which will investigate, in detail, any potential environmental or social issues that the project could affect."
The plans for a full operating licence will be subject to a public consultation next year.