Housing benefit change tenants 'absolutely terrified'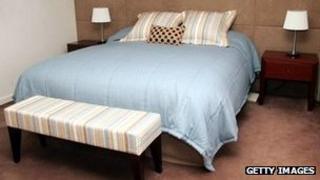 A Cornwall housing welfare advisor claims some tenants are "absolutely terrified" about changes to housing benefit due to come in next week.
Under the reforms about 3,000 people in Cornwall, classed as having spare bedrooms, will have their payments cut.
Tenants with one spare room will, on average, lose £529.50 and those with two rooms, £945.50 a year.
The government wants to end what it calls the "spare room subsidy" for social tenants.
It claims the "under-occupancy changes" will save about £500m from the nation's benefits bill.
Cornwall Housing welfare advisor Lou Brack said it was giving advice on "seeking employment, taking in a lodger and completing discretionary housing benefit forms for people that may be exempt".
Ms Brack said: "Most people were expecting it, most are going to tighten their belts but a third of our tenants are absolutely terrified."
The government claim the changes will bring fairness to a system which has seen the housing benefit bill increase to about £23bn a year.
Conservative MP for Camborne, Redruth and Hayle, George Eustice said he understood it was an "important but difficult change which will concern people".
He said: "We need to encourage people whose families have perhaps flown the nest, who are perhaps approaching the end of their working life, to downsize to a smaller property."
Tenant, Steve Hunt, 59, said things were going to get "quite hard".
Mr Hunt, who is disabled and living in a two-bedroom Cornwall Housing-owner property in Falmouth, said he would lose "about £60 a month" from his housing and council tax benefit.
He cannot work and has lived in the property since his daughters left home and his wife died two years ago.
Mr Hunt said: "I didn't ask to be disabled, yet I'm getting clobbered."