Appeal launched to house Cornwall's feral cats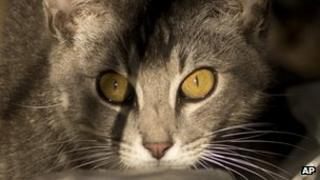 A charity in Cornwall has launched an appeal to give new homes to feral cats.
Cats Protection's Truro & District Branch helps to look after the animals and to control their numbers by neutering them.
The charity said it had "a surplus" of feral cats who would prove useful for farms, smallholdings and golf clubs with their "predatory skills" as pest controllers.
It said there were colonies of feral cats all over Cornwall.
Heathcliffe Melanistic, from the charity, said: "We get calls every week from holiday parks, everywhere really, about the number of feral colonies there are, that people aren't aware of."
The charity said a feral cat can be "an environmentally-friendly alternative to chemical pest control".
Sue Richards, the Truro branch co-ordinator, said: "We have several feral cats that need to be relocated in the next few weeks as their current situations are under threat.
"We have had positive feedback in terms of reduced rodent problems from the many farms that have taken on ferals from us."