RNAS Culdrose helicopter rescues two trapped by tide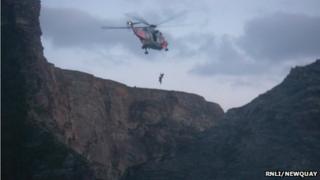 A man and a woman have been rescued after becoming cut off by the tide off the Cornish coast.
Falmouth Coastguard said the alarm was raised at about 19:00 BST on Sunday when the man and woman became trapped at Zacry's Island, near Watergate Bay.
Rough seas meant Newquay's inshore lifeboats were unable to reach them.
But after scrambling about 30ft (9m) up the northern slope of the island, an RNAS Culdrose helicopter winched them to safety.
The pair, who were not seriously hurt, were treated for exposure to the cold at Newquay Minor Injuries Unit.
A coastguard spokesperson said: "The man used his mobile to ring 999, but he didn't know exactly were they were initially.
"It was a difficult rescue because of the weather and sea conditions - they were lucky, but the woman was extremely cold and wet."