Tate St Ives secures £2.8m of lottery funding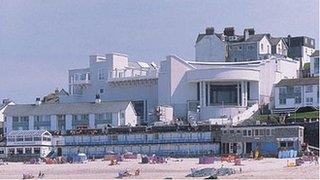 An art gallery has secured £2.8m of funding to extend and renovate its building.
The Tate St Ives, in west Cornwall, has been awarded the money from the Heritage Lottery Fund.
The plans include creating a two-storey learning suite for visitors and opening a permanent display from artists that worked in the area between World War II and the 1960s.
The gallery attracts an average of 240,000 visitors each year.
A spokesman said when it opened in 1993 its aim was to celebrate the history and legacy of the St Ives Modernists.
The term loosely covers artists that worked in the area, in an abstract or semi-abstract way, between WWII and the 1960s.
The plans for the extension were submitted to Cornwall Council in January and approved in March.