Dog owner from Hayle calls for wire snare ban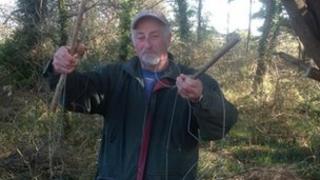 A man from Cornwall has called for a ban on all wire snares after removing five from a hedge near his home.
Geoff Holman, from Townshend, in west Cornwall, said he risks being prosecuted for removing the snares but said he did it to keep his dog Harvey safe.
The National Gamekeepers Organisation insists properly set snares are a way of controlling foxes and rabbits.
The RSPCA said it would continue to campaign to see them banned.
Mr Holman said: "They may be set for foxes or rabbits, but they'll catch anything and whatever's in them is as good as dead. It's tragic."
Liam Bell, head gamekeeper and a senior member of the National Gamekeepers Organisation, said: "I set snares legally and responsibly.
"But the snares set on a bank or in trees were set wrongly. They shouldn't be set anywhere near a public footpath. They should be set in private areas."
The RSPCA said: "Only 30% of snares actually catch their designated prey - with cats and dogs snagged in them all too often."