'Custodian' of St Michael's Mount Lord St Levan dies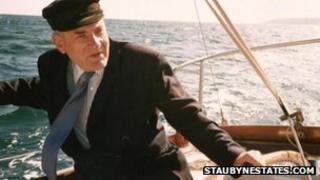 Lord St Levan, who looked after one of Cornwall's most famous landmarks for more than 25 years, has died, aged 94.
During his time as "custodian" of St Michael's Mount in west Cornwall, he saw about 30,000 people pass through his home each year.
Lord St Levan previously said he spent "many happy years" there greeting "wonderful" visitors.
With his wife of more than 30 years, he devoted his life to the Mount and several charities.
John St Aubyn was born in London in 1919. He took part in the evacuation of British soldiers from Dunkirk in 1940 and was in command of an escort ship during the D-Day landings in 1944.
He later became a patron of the Normandy Veterans Association.
In 1978, he succeeded his father as the fourth Baron St Levan, moving to the family's seat of St Michael's Mount.
'Happy years'
The family has been based at the Mount - a tidal island near Penzance which features buildings that date back to the 12th Century - since 1659.
It belonged to the St Aubyn family until 1954, when it was given to the National Trust but the family retained responsibility for its management.
Part of the castle and grounds were leased back to them and some family members continue to live there.
Before his move to the Mount, he enjoyed a varied career which also included catering from a shop in London's Earls Court Road, where he chiefly sold meat pies.
He left St Michael's Mount in 2003 just after the death of his wife, Susan Kennedy.
During more than 30 years of marriage, the couple devoted themselves to charitable causes, as well as looking after the Mount.
While in residence, up to 30,000 people a year would go through the family home, always welcomed by a man who believed his role was as custodian of St Michael's Mount.
In an interview for the Daily Telegraph in 2005, Lord St Levan said: "By and large they were wonderful and we welcomed them.
"I have often said that my greatest contribution to St Michel's Mount was to do nothing."
The mount remains a major tourist attraction and is still visited by thousands of visitors each year.
Speaking in 2005, Lord St Levan said of leaving the mount: "I had so many happy years there, but it was the right time move on, as my father had done when he was about 80."