'Bizarre' fish pair go on display in Newquay aquarium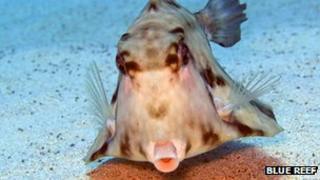 A pair of "bizarre" baby fish which spit water when they are hungry has gone on display at an aquarium in Newquay, Cornwall.
Known as the humpback turretfish - or the camel cowfish - they are native to waters around East Africa, Indonesia, Japan, and Australia.
In the wild the species feeds on worms, crustaceans, molluscs, and sponges.
Blue Reef Aquarium spokesperson Jenni Smith said: "Although they're only tiny, they're particularly impressive."
She said: "They are so full of character and as soon as people come near the tank, they swim straight over to the glass to have a look."
"We think the spitting is to attract attraction - almost like 'I'm here, look at me' - when they want to be fed."