Priory Park protest march over Bodmin link road plan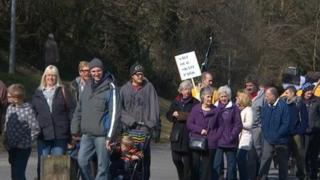 Hundreds of people have marched through a Cornish town to protest against plans for a new link road.
Campaigners believe if the Bodmin link road goes ahead at Priory Park local people would lose lose a valuable green amenity and the town's football club could be forced to relocate.
Cornwall Council said the road would improve air quality and was important to the town's economic development.
The road is part of the Bodmin Town framework for growth and regeneration.
'Traffic-free zone'
The framework is one of a series produced by Cornwall Council that will form part of its main planning document for the county.
The proposed road from St Nicholas Street to Priory Road would make the town centre a traffic-free zone.
But protest organiser Len Trendall said while traffic was an issue, Priory Park was not the solution.
"We do have a pollution problem and a traffic problem in Bodmin and that's obvious to anybody because we have a main road that goes through to Wadebridge from the A30 and the A38," Mr Trendall told BBC News.
"But we feel there is an alternative because a road through a park and by a school - putting pollution and congestion in other parts of the town - is totally unnecessary and they should rethink."
The public consultation on the Bodmin Town Framework is open until 22 April.