Transatlantic journey for small Isles of Scilly plane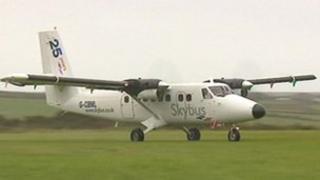 The company that operates flights from Land's End to the Isles of Scilly has had to adapt a new plane it is adding to its fleet.
Skybus acquired the De Havilland plane in Canada, but with a normal range of 650 miles (1,046km), a giant fuel tank has had to be added.
The 4,500-mile (7,242km) journey will take 26 flying hours, with fuelling stops in Greenland and Iceland.
The DH-6 Twin Otter was chosen for its short take off and landing capability.
'Meticulous planning'
Skybus already has three of the 19-seater Twin Otters in its fleet, plus three eight-seater Britten Norman Islanders.
The giant fuel tank - which is taking up half the plane's cabin space - will almost double the plane's range, so it can fly from Greenland and Iceland, then across the Atlantic. It will land at Prestwick Airport in Scotland, before making its final leg to Land's End Airport.
The plane left Calgary on Saturday night and should arrive in the UK on Friday.
Skybus engineering manager Mick Yould, who has spent three weeks in Canada preparing the plane, said it was "a really tough piece of kit".
"We've planned the trip meticulously and made sure we've plenty of fuel to divert to alternative airports if the weather deteriorates," Mr Yould said.
The Isles of Scilly Steamship Group, which owns and operates Skybus, said having a fourth Twin Otter would give it more flexibility on its routes from Exeter, Newquay and Land's End.
"It's a great aircraft for us because of its short take off and landing capability, but they are not easy to get hold of because they are so popular, which is why we had to go to Canada," Skybus chief executive Jeff Marston said.