Cornish surf rowers tackle Loch Ness for ShelterBox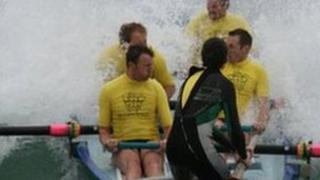 A Cornish team is hoping to become the first to row a surf boat 65 miles (105 km) from Fort William to Inverness in Scotland.
Their journey starts on 19 April and will take them across Loch Ness.
The five-strong team, from Perranporth Surf Lifesaving Club, is making the trip to raise money for Cornwall-based disaster-relief charity ShelterBox.
Surf boats are more commonly used to ride the waves in coastal waters.
The boat will be launched on the Caledonian Canal at Fort William before making its way along the water way and through Loch Ness.
The journey to Inverness on the east coast is expected to take three days.
'Constantly amazed'
Peter Gaisford, crew member and president of Perranporth Surf Lifesaving club, said: 'We're constantly looking for new ways to challenge ourselves and taking a surfboat to Scotland in April is not something that has been done before."
Stephen Branfield, from Shelterbox, said: "This is a great example of how the people of Cornwall have taken ShelterBox to their hearts.
"We're constantly amazed at the ways people here come up with to support our work.'
Two of the rowing team are in their sixties.
ShelterBox recently appointed a new chief executive after its former leader was removed in a row over spending.
Alison Wallace is due to start her new role on 15 April.