Isles of Scilly transport group calls for new Land's End runway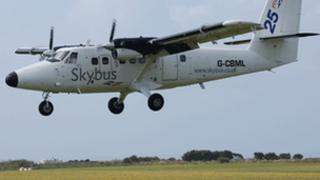 A transport group on the Isles of Scilly is calling on the government to help pay for a hard runway at Land's End Airport.
It comes the day after a new £1m passenger terminal opened at the airport in west Cornwall.
The Friends of the Isles of Scilly Transport (FRIST) said islanders suffered badly when Land's End was waterlogged for two months.
The Department for Transport (DfT) said it was a local planning matter.
A survey has been done and plans are now being drawn up for a hard runway which would cost up to £1.5m.
The Isles of Scilly Steamship Company (ISSC), which owns the airport is keen to build the runway, but it has already spent £1m on the terminal.
A new aircraft is expected to arrive later this month.
James Francis, a hotelier from Scilly, and a member of FRIST said: "We felt it was always going to be a challenging winter, in the first winter after the helicopter finished, compounded by the successive saturation."
Mr Francis said the runway would be "an awful lot of expenditure for the company to take on".
He is calling on the government to help pay for the runway for a "lifeline service".
"This is very crucial for all sorts of reasons for the islanders, like health visits.
"They need a more consistent surface there for the lifeline flights in the winter when we don't have the ship facility running alongside the flights."
ISSC is now the sole provider of commercial flights to the Isles of Scilly after British International Helicopters stopped its year-round service in October following financial problems.
The Scillonian ferry only runs during the summer months.
The DfT said: "Land's End is a private airport and it's up to the owners to arrange finance."
It added that it was a local planning matter for the local council.