Lanner's village hall suffers third theft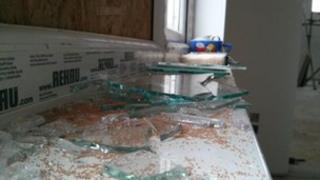 A community project in Lanner, Cornwall, has been targeted by thieves for the third time in three months.
Burglars broke in to the village's band hall before escaping with three fuse boards.
A spokesman for the hall said the damage to windows and doors along with the theft has left them with a bill for £800.
He said the community felt "really let down" by the theft at the building which is also used by the scout group.
Lee Rouse, the chairman of Lanner Band, said, "We are nearing completion of the build which will provide a music facility for the whole community as well as providing the village's scout troop with their own badly needed headquarters.
"I feel really let down that when so much time, effort, hard work and care has gone into this building, someone seems to think it's OK to come and damage it and take things that don't belong to them."