Athlete killed in car crash 'had not slept for two days'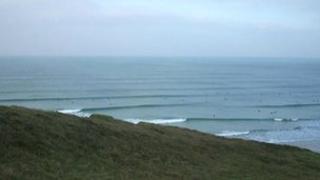 An athlete who died in a road collision in Cornwall had completed a 37-hour race and not slept for two days before the accident, an inquest heard.
South African Andrzej Okreglicki, 51, died last June after his car clipped a kerb on the A39 near Newquay and went into the path of oncoming traffic.
He was heading for Heathrow Airport after completing the Ultra Trail South West running race.
The coroner recorded a verdict of accidental death.
'Significant commitment'
The inquest in Truro was told Mr Okreglicki, who died from multiple injuries, had run virtually non-stop throughout a weekend to complete the 100-mile (160km) race, the equivalent of just under four marathons.
He was said to have taken refreshments along the way, but did not sleep between the start of the race in Porthleven, Cornwall, at 19:00 BST on 22 June, and its finish at Watergate Bay, near Newquay, two days later.
Mr Okreglicki's Hyundai hit a car being driven by holidaymaker Joanne Boyfield. Her husband and two young children were also in the vehicle although they escaped with minor injuries.
The court heard there were no mechanical defects with his car, nor were drugs or alcohol present.
A post-mortem examination also failed to detect signs of a medical cause of his death, such as a heart attack, prior to the collision - although not all illnesses would show up in the examination, the court was told.
The inquest was also heard that race organisers Endurancelife had told competitors not to drive immediately afterwards.
Coroner Andrew Cox said: "It's a significant physical commitment and I have no objection to anyone taking part in races of this sort.
"My suggestion is that he may have had a medical episode, but I do not think it was the case.
"I think it is far more likely that, suffering from physical exhaustion, he has fallen asleep at the wheel while the car was on the highway.
"The deceased knew he should not drive after an event such as this, yet he did so. He cannot escape criticism."