Cornwall's tourist information centres' funding fears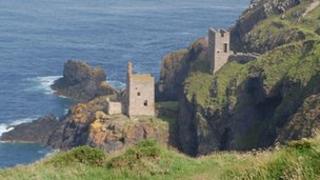 Fears have been raised over the future funding of Cornwall's Tourist Information Centres (TIC) following a council review.
Cornwall Council said its tourism arm, VisitCornwall, had been asked to "reduce its budget".
It said in future VisitCornwall would be concentrating on attracting new visitors to the Duchy via the internet.
Tina Evans, chair of Padstow TIC, said she did not know if it would survive without council funding.
VisitCornwall staff are being briefed about the changes, but it is not yet known if jobs will be affected.
'In-depth research'
Cornwall Council said in a statement: "It has been decided the focus for publicly-funded tourism marketing should be to attract first time visitors to Cornwall, with the private sector concentrating on providing a high standard of visitor experience and targeting their marketing efforts on repeat/returning customers.
"The tourism industry needs to make sure it is benefiting from in-depth customer research, high quality marketing and PR and making the most from modern information and communication technology such as social media."
Cornwall's 25 tourism information centres (TICs) are all run by private organisations or town councils but last year 17 received funding from VisitCornwall totalling £150,000
Padstow Area Tourism Business Forum, which runs the town's TIC, receives about £15,000 a year.
Tina Evans, a B&B owner who chairs the forum, said she had been told by VisitCornwall its funding was "likely" to go but the final decision would be made by Cornwall councillors.
'Narrow-sighted'
She said: "What's so disappointing is that the money they are withdrawing is not a huge amount.
"It's so narrow-sighted."
Padstow TIC gets about 80,000 visitors a year and makes about £2,000 profit.
Mrs Evans said that without the VisitCornwall funding the centre would make a loss and she did not know if it would be able to stay open.
"The funding is a vital lifeline," she said.
"Digital marketing plays to the big boys... small operators don't really have a voice.
"People would rather go into a tourist information centre where they can touch base and ask questions, not download an app."
Cornwall Council said VisitCornwall would be talking to TICs about "future arrangements" when its consultation with staff had been completed.
Tourism is worth more than £8 billion annually to the South West economy - with 26 million visitors generating employment for more than 300,000 people.