Open verdict into Cornish bride's death in India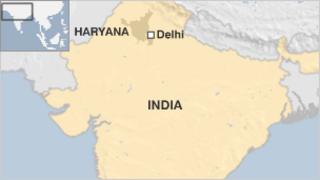 A coroner has recorded an open verdict at an inquest into the death of a young bride in India.
Charlotte Bending, 24, from Liskeard, Cornwall died in 2008 after travelling to India to get married.
Her family raised concerns over her death, but a coroner found no evidence of violence or poison in her system.
Post-mortem tests in India gave the cause of death as asphyxia due to vomiting, but a second autopsy in the UK failed to ascertain the cause.
Cornwall Coroner Dr Emma Carlyon was told Ms Bending had travelled to Haryana in northern Indian with Jitender Singh - an Indian national - and her two children from a previous marriage.
The family planned to return to the UK after a traditional Indian wedding, but Ms Bending died days later.
'Severe asthma attack'
Ms Bending's sister, Karen, told the inquest that when Mr Singh phoned to tell her of the death, he was hysterical and kept repeating she was dead.
She said it was suggested her sister had become ill after eating spicy foods.
Dr Clive Holgate, a consultant pathologist from Plymouth's Derriford Hospital, said post-mortem and toxicology tests on Ms Bending's organs were carried out in India and the cause of death was given as asphyxia as a result of aspiration - a reaction in the lungs to vomiting.
However, in further forensic examinations he carried out, Dr Holgate said he found no indication of asphyxiation, but neither was there any evidence of injuries or violence.
He said Ms Bending, who was asthmatic, may have suffered a severe asthma attack.
Dr Holgate said he could not ascertain the cause of death.
John Blake, a crime scene manager and co-ordinator with Devon and Cornwall Police, said he had seen no evidence which could be regarded as an unlawful killing or would warrant police investigation.