Wadebridge School boycotts sports centre over £41k bill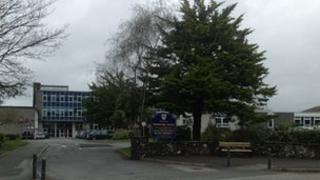 A school has stopped using a leisure centre next door after being asked to pay £41,000 a year.
Wadebridge School became an academy in 2012, getting its funding from central government rather than Cornwall Council.
The council and leisure centre has told the school it will now have to pay.
Head Tina Yardley said: "What we can't do for the moment is to carry on using it and then be asked for a very large sum of money that we just don't have."
'Out of bounds'
Miss Yardley said in a letter to parents that the leisure centre, next to the school, was built "for the school and the community" to compensate for the school's small gym.
She said the school considered the sports hall in the centre to be "ours".
But to "make sure we aren't charged at any time and there's no confusion" the entire leisure centre was "completely out of bounds" for the school's 1,200 pupils during school hours.
The council said in a statement it was "disappointed" with Miss Yardley's comments "given that we are still in negotiation with the school to find a solution".
It said: "When the school transferred to academy status, it became responsible for its budgets, including the costs associated with using the leisure centre.
"All schools planning to transfer to academy status were made aware of the impact the transfer would have on their budget responsibilities."
Ruth Darley, who has had four children at the school, said: "The school is already struggling financially.
"The parents are trying to support it, but we can't support the council as well.
"Council tax is more than enough."
Pupil Arlo Williamson, 12, said: "It's stupid not being allowed to go in there. We used to go in there all the time and now they are making us pay for it."
The school said in a statement: "The school is willing to contribute towards the running costs of the sports hall to reflect our use of these facilities.
"But the level of contribution has to be based on a realistic and fair figure that is affordable and, at this present moment in time, the council has not been able to provide this.
"The school cannot commit itself to an unknown and ongoing liability that would put significant pressure on the school budget that could lead to teacher redundancies and larger class sizes."
Carrick Leisure, which runs the centre on behalf of Cornwall Council, was unavailable for comment.