Cornwall families 'face cash cut' under benefit changes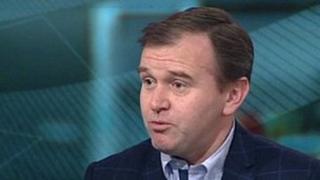 More than 100 families in Cornwall face having their benefits capped in changes to the government's welfare system.
From September, no family will be able to claim more than £25,000 in combined benefits each year.
A FOI request from BBC Radio Cornwall revealed 114 families in Cornwall receive more than this and two families currently receive more than £43,000.
Conservative MP for Camborne and Redruth George Eustice, said the cap was "very high and very generous".
Mr Eustice defended the government's welfare changes and said it would "make the system fairer".
Rachel Buchanan, a single mother, said she was "unable to work" because she needs to care for her five children.
'No jobs'
Ms Buchanan, who receives income support, child benefit, child tax credits and housing benefit said she would have to find an extra £200 a month from September.
"They do pick on the poor. They look at single parents as a target unfortunately," she said.
The government has said the reform programme will help bring benefits into line with the average wage and encourage people back into work.
However Claire Arymar, neighbourhood manager for Cornwall Council on the Pengegon Estate in Camborne, said she could "count on one hand" the amount of people who "choose to be on benefits".
Ms Arymar said: "There are no jobs in Cornwall for a start and, if you have a large family, childcare will wipe-out anything you earn."
The Department for Work and Pensions said about £90bn was paid out in benefit payments to people of working age and their families in 2009-10. It hopes the cap will save about £110m a year.