Chris Evans breast cancer drive leaves Land's End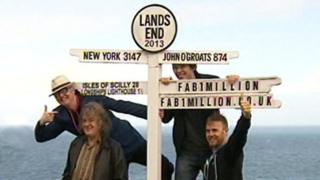 A pink Rolls-Royce and four celebrities have embarked on a charity drive from Land's End to John O'Groats in aid of breast cancer care.
DJ Chris Evans, singer Gary Barlow, Professor Brian Cox and broadcaster James May left Land's End at 10:15 BST.
The year-long campaign, FAB1 Million, aims to raise the funds by making the Rolls-Royce available for daily hire.
Evans said the 24-hour trip was going to be a "brilliant adventure".
"We've planned things, we've got the map out, but we don't know where we may stray. The boys are in the mood, it's going to be a magical mystery tour," he said.
The team hopes to reach John O'Groats at about 04:30 on April 19, having stopped off in Bristol, Birmingham, Warrington and Glasgow.
Evans said: "Everyone is saying that is so optimistic, there's no chance that's going to happen."
The project was thought up by Evans who has owned the FAB1 Lady Penelope Thunderbirds plate for five years but was unsure of what to do with it now it was no longer attached to a car.
Rolls-Royce gifted the bespoke vehicle with the plate attached, to Breast Cancer Care for a year.
Every 10 minutes someone in the UK is diagnosed with breast cancer.
FAB1 Million will enable Breast Cancer Care's specialist nurses and experts to provide free, tailored information and support to anyone affected by breast cancer and help them live with, through and beyond breast cancer.