Building starts on duchy's Newquay project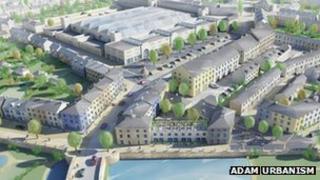 Construction work has started on a project that will lead to thousands of new homes on the edge of Newquay.
The Duchy of Cornwall is building nearly 4,000 new homes at Nansledan to the east of the town centre.
Construction, which will take place over 50 years, includes a new primary school, a church, restaurant and recreation ground.
Ahead of the project, 174 homes are being built on Duchy land at Tregunnel Hill, south west of the town centre.
Trevillet slate quarry near Tintagel, which will supply roofing materials, has taken on three new workers.
Quarry managing director Mandy Hopkins said: "There are decades of work ahead so we will definitely be keeping them on and taking more on in the future."
The duchy, which provides a private income for the Prince of Wales, owns most of the 218-hectare (538 acre) Nansledan site.