Family of meningitis victim Shane White calls for jab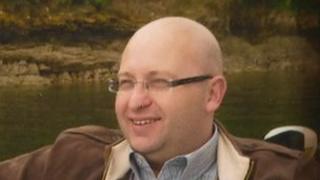 The family of a Cornish man who died of meningitis two weeks before his wedding are campaigning for a new meningitis B vaccine to be introduced.
Shane White, 38, from Lostwithiel, died on 31 March 2012 after suffering "flu-like" symptoms for a couple of days.
His family said they were shocked at how quickly he deteriorated.
They are working with Meningitis UK to call for the new meningitis B vaccine, Bexsero, to become part of the national immunisation programme.
The Joint Committee on Vaccination and Immunisation (JCVI), which advises the Government on vaccination, is due to consider the vaccine this summer.
Mr White's mother, Ros White, from St Blazey, said: "The sheer speed of this disease that can take somebody is horrendous.
"The shock is just something you can never get over.
"In less than seven or eight hours we'd lost him.
"We just thought he had a bug, the rash didn't even come out until the end."
Mr White, who was a manager at Tulip Foods in Bodmin, had been planning to get married two weeks after he died.
His symptoms began with diarrhoea and a sore throat and he had been due to have vaccinations for his honeymoon but a nurse at the surgery refused to administer them because she suspected he had a virus.
Mr White's condition deteriorated and he was rushed into Plymouth's Derriford hospital, where he died eight hours later.
His sister, Charmaine White, said she was keen to highlight the effect meningitis can have on adults as well as children.
She told BBC Radio Cornwall: "He had diarrhoea and a sore throat one minute and within a few hours he was on life support.
"This happens to real families, it doesn't just happen to children, it happens to adults of any age."