Bed-blockers hit 10 emergency hospital admissions a day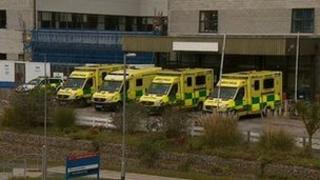 An average of about 10 ambulances a day were stuck waiting to deliver patients to the Royal Cornwall Hospital's emergency department last month because of bed-blockers, managers say.
Crews could not hand over 313 patients within 30 minutes of arriving at the hospital in Treliske in March.
The hospital's trust said it was because of a shortage of beds caused by delays in discharging other patients.
It added it was working with other organisations to solve the situation.
Moving care
Hospitals are contracted to get ambulances back on the road within 30 minutes of their arrival with patients.
Last year, the Royal Cornwall Hospital paid the South Western Ambulance Service more than £85,000 in penalties for keeping ambulances waiting because of 830 incidents in a 10-month period up to February 2012.
January 2013 saw the worst bed-blocking rates at the Royal Cornwall Hospital for four years.
A report to the Royal Cornwall Hospital Trusts Board said the average bed-blocking then equated to 35 patients per day, compared with 26 a day for January 2012, and 23 daily for the year as a whole.
Trust nurse executive Andrew MacCallum said the numbers had decreased slightly, but there were still problems.
He said: "On average, since Christmas, we've been having around 30 patients that could have been looked after elsewhere in the county."
He added that the hospital had also been dealing with a "significantly higher number of patients" in recent months.
Options to alleviate the situation could include the moving of patients to community hospitals or into the care of Cornwall Council.
Community hospital bosses and the council said they were working with the trust to speed up the patient discharge process.