Trelissick House bottles fetch 'world record' auction price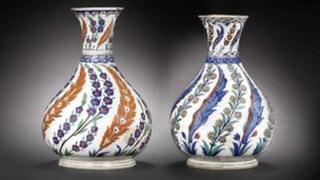 Two rare 16th century Turkish bottles, sold by a family in Cornwall, have fetched a "world record" price of £748,500 at auction.
One of the rare Iznik bottles - sold by the Copeland family from Trelissick House near Truro - went for £447,250 and the second for £301,250.
The receptacles were put up for sale at a guide price of £150,000.
Roger Tappin, regional director of Bonhams auctioneers said the sale had "exceeded all expectations".
Bonhams said the amount one of the bottles, which resemble vases, had sold for, was "a new world record for an Iznik bottle".
Mr Tappin said the bottles, used to hold wine and water during the golden age of the Ottoman Empire, "were terribly difficult to assess because they were almost unique, perfect examples from that period".
He said they had survived "500 years of being shipped around" and the difference price between the two was down to the fact that "one was a rarer colour".
The bottles were previously sold by an antiques dealer in January 1919 for what was then £501, 10 shillings.
The buyer was Leonard Daneham Cunliffe, deputy governor of the Bank of England who owned properties including Trelissick House, near Truro.
Trelissick House and the Iznik bottles passed to his step-daughter Ida Copeland, when he died in 1937.
In 1955, the 376 acres, Trelissick House, Home Farm and its buildings were given to the National Trust, with a condition that the Copeland family could stay in the main house, but they have now decided to move.
The whole of the contents of the house will be sold on site in July.
Mr Tappin said Bonhams were estimating the contents of the house will fetch £1m to £1.5m.