'More pressure' on emergency services with NHS 111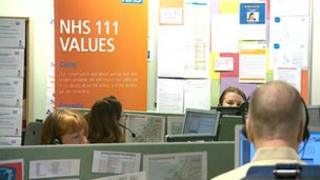 Doctors in Cornwall claim the new non-emergency phone service, NHS 111, will put "even more pressure" on Cornwall's emergency services.
Chairman of Cornwall and the Isles of Scilly's local medical committee, Dr Peter Merrin said the new phone system was "risk adverse" and tended to use ambulances as a default mechanism.
He said there would be an increase in ambulance call-outs to non-emergencies.
Cornwall is due to receive the new phone service towards the end of May.
The free one-stop number is for patients with urgent but not life-threatening symptoms.
Mr Merrin said: "Our services are already under a great deal of pressure both primary and secondary care and in some cases, near meltdown.
"I'm anticipating increasing numbers of ambulances at the Royal Cornwall Hospital and perhaps at Derriford as well, queuing for many hours and being unavailable for more urgent cases out in the rest of the county," he said.
'Chaotic mess'
The service, expected to replace NHS Direct in June, has been piloted in many places across the country but has caused concern.
Last month, the British Medical Association (BMA) said the "chaotic mess" of 111 was "placing strain" on overstretched parts of the NHS, such as the ambulance service, and potentially placing patients at risk.
Dr Tamsyn Anderson, urgent care lead at NHS Kernow, the new clinical commissioning group in Cornwall, said she did not anticipate seeing the problems that other parts of the country have when Cornwall goes live.
She said she hoped NHS 111 would "signpost patients more appropriately to where they need to be seen in their appropriate local service, freeing up the emergency departments to avoid those pressures."
NHS Kernow said "the safety of patients is our top priority".
Devon is planning to launch its phone line in June.