Children in Devon and Cornwall urged to have MMR jab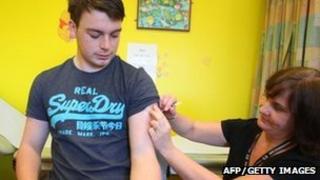 Health officials are urging children aged 10 to 16 in Devon and Cornwall to get vaccinated against measles in time for the next school year.
Following the recent outbreak in Swansea, it is feared similar epidemics could spread.
There have been four confirmed cases of measles in the last quarter in Devon, Cornwall and Somerset.
Professor Debra Lapthorne from Public Health England (PHE) said "just one dose would give a 95% protection".
There have been recent outbreaks in Wales and North East England, and one case reported in Cornwall during the first three months of 2013.
Ms Lapthorne, from PHE said: "Measles is a potentially fatal but entirely preventable disease so it is very disappointing that we have seen outbreaks in the area."
Health officials have warned epidemics similar to the one in Swansea, which has seen nearly 900 cases, could occur anywhere.
'Highly contagious'
"Those who have not been vaccinated should urgently seek at least one dose of MMR vaccination which will give them 95% protection against measles. A second dose is then needed to provide almost complete protection.
"Measles is not a mild illness - it is very unpleasant and can lead to serious complications as we have seen with more than 100 children in England being hospitalised so far this year," she said.
Discredited claims by Andrew Wakefield of a link between MMR and autism led to vaccination rates falling to 80% by 2005, far below the level needed to prevent the spread of the disease.
Those unvaccinated children are now entering a vulnerable period in their lives as they move to secondary school.
Ms Lapthorne, said: "Measles is a highly contagious disease characterised by a high fever and a rash. In one in 15 cases it can lead to severe complications, such as pneumonia and inflammation of the brain, and can be fatal."