Newquay Airport fears after Flybe's Gatwick flights end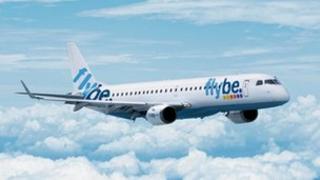 Flybe claims there could be "little future for Newquay Airport" after announcing the end of its flights to London Gatwick from March 2014.
The company sold its slots at the London airport to Easyjet for £20m, blaming an increase in airport charges.
Flybe said it was the "only high frequency provider" at Newquay and has three flights a day to Gatwick.
The airport said it was in talks with at least two other airlines to "step in and actually support that route".
Newquay Airport provides the only direct flight to London from the far south-west of England.
Mike Rutter, managing director of Flybe's outsourcing solutions, said: "Newquay Airport has been a challenged model for some time.
"With little airport business, unless there is a change to a publicly-supported model, I think as it currently stands there is little future for Newquay Airport.
"Larger operators like Ryanair and Easyjet can provide a single daily service... whether that works for the economic needs of Newquay, I doubt it."
Cornish business leaders and a local MP said Flybe's withdrawal from Newquay was "devastating news" for the county.
Al Titterington, managing director at Newquay Airport, said: "Other operators we're talking to have expressed a desire to step in and actually support the airport and support that route, because we have a demand of 100,000 travelling to Gatwick year on year.
"Although the loss of this route by Flybe is a blow it does not signify any loss of confidence in the airport's viability to deliver essential services to the residents of Devon and Cornwall and the Isles of Scilly.
"The airport is a key part of the transport infrastructure serving the South West and is a vital gateway for travellers visiting Cornwall."
However, the airport has seen a steady decline in passengers numbers, dropping from about 431,000 in 2008 to about 199,000 in 2012.
Cost-cutting
Easyjet, which will launch flights between Newquay and London Southend in June, said it would review the routes, but there was no obligation for it to maintain them.
A spokesman for Easyjet said it had completed a deal to buy take-off and landing slots at Gatwick from the summer of 2014.
"Newquay is a new destination for Easyjet and our first flights launch to London Southend on 20 June and Liverpool on 4 July," he added.
It is unclear whether Newquay-to-London Gatwick flights will continue under Easyjet.
Flybe said the sale of landing slots was part of a cost-cutting programme for the Exeter-based airline.
About 290 staff have already left the company, of which 43 were made compulsorily redundant.
A further 300 are now employed by outsourcing firms that provide services for the airline, and 83 redundancies have been announced as the "final part of the restructuring programme".
Earlier, the airline and the British Airline Pilots' Association confirmed pilots had agreed a 5% pay cut to avoid compulsory redundancies.
Flybe flies to and from Newcastle, Jersey, the Isle of Man, Inverness, Guernsey, Belfast and Newquay directly from Gatwick.