Tate gallery in St Ives reopens after fire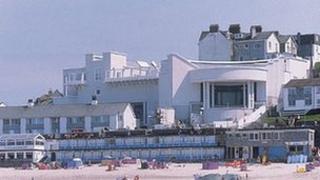 The Tate Gallery in St Ives has reopened after a fire in its kitchen on Bank Holiday Monday.
About 300 people were evacuated from the gallery while firefighters from St Ives dealt with the blaze on Monday afternoon.
A gallery spokesperson confirmed all the art housed at the gallery had escaped smoke damage.
The gallery features work by the St Ives Modernists.
Mark Osterfield, the executive director at the Tate, said: "There was a fire in the kitchen. The gallery was smoothly evacuated.
"There's no damage to the artwork or main gallery areas. We just need to look at the kitchen."
Andrew Barrett, the fire incident Commander, said: "The staircase is protected by fire doors. It was important for us to keep those shut to prevent the smoke from going into the gallery areas."
The gallery attracts about 240,000 visitors each year.