Cornwall's first university officially recognised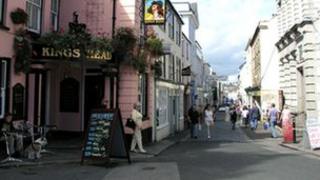 The official inauguration of Cornwall's first university has taken place in Falmouth.
David Willetts, Minister for Universities and Science, announced Falmouth's status as a full university in November.
A parade featuring students, lecturers and civic leaders in Falmouth was followed by a dedication service at King Charles Church.
Student numbers now stand at 4,000, a university spokesman said.
'Quality teaching'
Having started life in 1902 as a small art school, it is now recognised as a multi-arts university offering art, design, media, performance and writing, with artist Tacita Dean, sculptor Tim Shaw and BBC broadcaster Hugh Pym among its alumni.
Professor Anne Carlisle, Vice-Chancellor and CEO of Falmouth University, said achieving the title of full university "has been one of our key goals and speaks volumes for the quality of our teaching, facilities and governance".
"It is also the culmination of the efforts of many in Cornwall who have supported our aspirations over several years," added Prof Carlisle.
Col Edward Bolitho OBE, the Lord Lieutenant of Cornwall, is among the dignitaries attending a series of events held to mark the official inauguration.
Geoffrey Evans, Falmouth's Mayor, said: "Falmouth should be proud to be Cornwall's first official university town and this association is completely apt, complementing our vibrant and thriving community.
"I am struck by the high number of graduates who set up their own businesses locally, enhancing our existing creative industries. Long may our association continue through this latest phase of the growth of our university."