Cornwall houses leased to Londoners only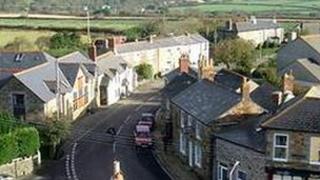 A man on Cornwall Council's social housing register said he was "shocked" to find a Redruth property he thought he had been allocated could only be leased to a Londoner.
Kevin Adams, 64, had hoped to move into a bungalow in Illogan.
The property was one of 40 built by the former Greater London Council in the 1980s under a scheme called Seaside & Country Homes.
Devon and Cornwall Housing said a mistake was made and it was "sorry".
'Very sad'
The scheme is a housing mobility project that offers households living in council or housing association properties in Greater London the opportunity to move home.
Mr Adams has been sleeping in his mother's front room in her house in Camborne after his marriage broke up last year.
He said he was worried about the steep stairs his 89-year-old mother has to tackle, so he applied for a bungalow for them both.
Mr Adams said: "I was told it had been referred and that the bungalows advertisement should have gone to London.
"I was so disappointed when I was told that. Very sad, really."
The 40 properties at Penwartha Road, Ilogan, were transferred to Devon and Cornwall Housing (DCH) from the former Greater London Council in the 1980s, under the scheme.
'Transfer agreement'
As part of the transfer agreement the majority of these properties continue to be let through the Seaside & Country Homes scheme.
In a statement Devon and Cornwall Housing (DCH) said: "Unfortunately, on this occasion two properties on this scheme had been advertised through Cornwall Homechoice by DCH when they were only available through the Seaside & Country Homes scheme.
"We are sorry for the error on this occasion and have put systems in place to ensure it doesn't happen again.
"We have a number of rented schemes within the immediate area which Mr Adams can apply for through Cornwall Homechoice in the usual way. We are encouraging him to do so."
According to Cornwall Council, there are more than 27.000 people looking for social housing in the county.
DCH built more than 100 affordable homes for local people in Cornwall last year and have plans to build about 1,500 over the next 5 years.
DCH claims that legal restrictions mean it cannot change the eligibility criteria for the houses in Illogan to allow local people to move in.