St Ives School on special measures after 'inadequate' rating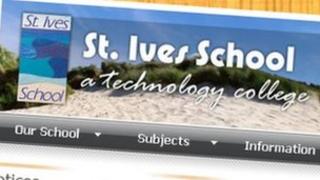 A Cornish secondary school has been placed under special measures following a government inspection.
Ofsted said inspectors visited St Ives School in April and May and rated its overall effectiveness as "inadequate".
Areas of concern included students not improving, inadequate teaching, a lack of feedback for pupils and a lack of strong leadership, it said.
Education authority Cornwall Council said it had appointed Richard Schofield as interim executive head teacher.
In its report, Ofsted said special measures were required because the school "is failing to give its pupils an acceptable standard of education and the persons responsible for leading, managing or governing the school are not demonstrating the capacity to secure the necessary improvement in the school".
Mr Schofield was due to start work at the technology college in July, the council said.
The school, which has about 660 students, was not available for comment.