Chairman of Royal Cornwall Hospitals Trust resigns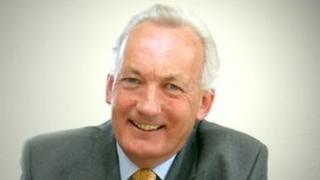 The chairman of the Royal Cornwall Hospitals Trust has resigned, its chief executive says.
Lezli Boswell confirmed Martin Watts - a former retailer who co-founded Olympus Sports and was appointed chairman in March 2009 - had left.
Ms Boswell said: "We are talking to the NHS Trust Development Authority about interim arrangements".
The development authority said Mr Watts' resignation came after a complaint against him was upheld.
Board members and hospital staff were told about his departure on Wednesday, the BBC understands.
An NHS Trust Development Authority spokesman said: "Following an independent investigation into the conduct of Martin Watts, which upheld a complaint under the Royal Cornwall Hospitals NHS Trust's dignity at work policy, we have decided to accept his resignation from his post as chair with immediate effect."
Ms Boswell said her focus and that of staff "remains on providing excellent patient care."
Joe McKenna, the chair of Health Initiative Cornwall, said: "I'm absolutely flabbergasted. I knew Martin Watts and Lezli Boswell very well.
"I felt after a long period of instability this pair would get it together and we'd have stability.
"The public pay for the NHS, and the public has every right to ask what's going on here. What is the plan? I am worried."
The trust's former chairman, Peter Davies, stood down in protest at plans to move some cancer operations from Cornwall to Devon.