Beach Break Live: Anger at 'pub crawl' music festival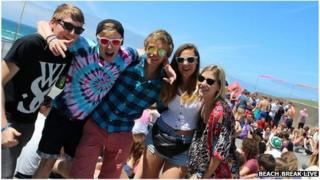 A four-day music festival staged in Newquay has been criticised as a "glorified pub crawl".
Some revellers claimed they missed acts they wanted to see because timings at Beach Break Live (BBL) were in disarray.
Others praised the festival, where organisers had to close the main stage because of high winds.
The event's organisers said there were "teething problems" and would look at "where improvements can be made".
BBL, which was first held near Polzeath seven years ago, moved to Newquay this year.
'A shambles'
Abut 7,000 people attended the four-day festival which had a main stage at Fistral beach, hosting stars including Jake Bugg.
Dubbed the "ultimate music holiday", the festival featured 300 acts spread over about 30 venues in Newquay.
According to festival-goers who wrote on the site's Facebook page, there were problems with timings of acts and venues.
Jessica Megan wrote: "This festival is a joke. So far we have missed everyone we wanted to see due to poor organisation, the line-up and set changes is consistently different to the programme."
Rebecca Moncaster, 31, from Padstow, paid a reduced Cornwall-resident price of £20 for the four-day festival, which had a top price of £119.
"It was a shambles," she told BBC News.
"There was no organisation at all. It became a free-for-all."
Kat Jackman, of social media firm Emerging Icons, presented 11 bands a day in the town.
'Unhappy artists'
"It was a pub but it didn't feel like it was part of the festival," she said. "There were no signs saying it was a BBL venue.
"They said they were going to dress the venue but they hadn't.
"It was an absolute disaster, we just had loads of unhappy artists."
However, some revellers wrote on Twitter about an "amazing weekend".
Organiser Ian Forshew said BBL had taken a "bold step evolving the traditional festival model" with a "whole new set of ambitions".
He said: "As with all new events there are bound to be some teething problems.
"We are working with everyone involved in making Beach Break Live happen to identify where the production worked well and where improvements can be made.
"Working with a large number of individual venues in our first year has been a new and exciting challenge."
Gales forced organisers to abandon the main stage on Sunday and send thousands of music fans to another stage four miles away.