Health before legal action call to former hospital chairman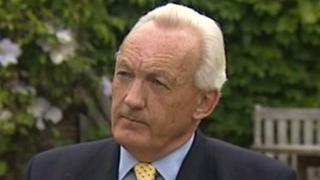 The former chairman of the Royal Cornwall Hospital is being urged by the county council's new health chief to withdraw his threat of legal action.
Martin Watts resigned the post last week after an investigation into his conduct by the NHS Trust Development Authority.
Mr Watts claimed he had done nothing wrong and vowed to fight to clear his name.
Councillor Simon Rix said the NHS must spend money on patients not lawyers.
Mr Rix is the chairman of the health and adult care policy advisory committee, a new committee that will allow councillors to grill Cornwall's health and social care providers.
He said: "Martin Watts was an excellent chairman of the trust but it's the health of the people of Cornwall which must come first.
"The NHS needs to spend its money on patients not lawyers. We all want them to focus on saving lives.
"We've seen a number of changes at the top in the past which have resulted in legal costs. We need to focus on what is important, the health of the people of Cornwall."
'Extremely flawed'
The NHS Trust Development Authority said an independent investigation had upheld a complaint against Mr Watts from two members of staff under its dignity at work policy.
The trust has not revealed the specific details of the accusations.
Mr Watts said: "The last thing I wish to do is spend money and time, and diverting the attention of senior management away from their primary focus to the patients. I think this whole situation is extremely flawed."
Mr Watts said he hoped that legal action could still be avoided.
He said: "At tomorrow's board meeting and the meeting of the governors on Friday, I am hoping the right questions will be asked, and clear and honest answers are given.
"That being the case I think it could well avoid me having to follow the legal route which I don't wish to do."